WORKSHOPS
Debbie Rudolph is a qualified Art and Textile teacher who runs regular workshops for beginner weavers. Join her in her Falmouth Weaving Studio where you can enjoy the relaxing atmosphere of the Textile Studio while learning a new skill.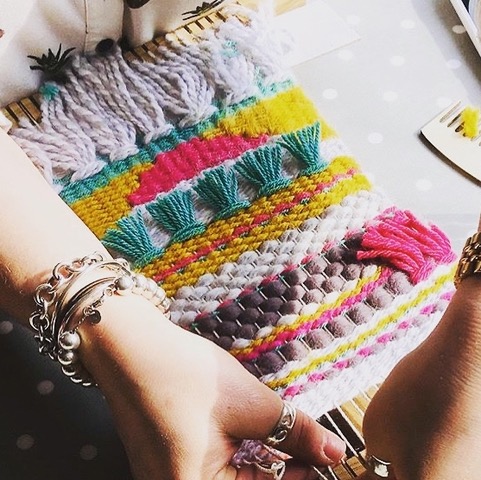 I'm very pleased to confirm that I will be starting my Textile Weaving Workshops up again at the end of September. I already have several dates booked for people who have been extremely patient until I felt that it would be safe to meet again in this way, so many thanks once again to everyone for your understanding.
Workshops are held once or twice a month and are booked through my online shop, please feel free to email me for group bookings or enquiries and I'll be happy to help if I can.


TEXTURE TAPESTRY WEAVING WORKSHOPS

During these Texture weaving workshops you will learn tapestry weaving basics and decorative elements. How to use a lap loom, tabby, rya, knotting techniques. You will produce a woven hanging with the focus on texture, pattern and colour.
Materials are included, looms are for the course use only, but are available for
purchase
.
Workshop dates:
21 February 2022 | 10:00am-2:30pm
26 March 2022 | 12:00pm-4:00pm
2 April 2022 | 12:00pm-4:00pm

15 April 2022 | 10:00am-2:30pm
16 April 2022 | 12:00pm-4:00pm
Covid Guidelines
Regarding the government guidelines, Debbie will implement these changes to the workshops:
• Ventilating the studio as much as possible, opening windows and doors.
• Reducing the number of participants to three (plus Debbie).
• Participants are to bring their own masks, wearing them if preferred.
• Participants will be provided with hand sanitiser to be used regularly throughout session.
• Debbie will keep contact details (for 3 weeks) following a workshop and contact members if anyone experiences Covid symptoms.
---
Term & Conditions
Reservations are essential and can be made by booking a place. If the workshop is affected by restrictions due to Covid-19 - the workshop will be postponed. Refunds will be available if you are unable to attend the rescheduled date. If you have booked a place and are not able to make it, please let me know as soon as you can.
---


© 2020 Debbie Rudolph | Handwoven Textiles